Principal benefits of AFM-in-SEM
LiteScope AFM-in-SEM brings a unique value to correlative microscopic measurements. See what are the main advantages of combining AFM and SEM instumentation into one complex device. We offer three principal areas which bring extra value in comparison with using separate Atomic Force and Scanning Force Microscopes.
Complex and correlative sample analysis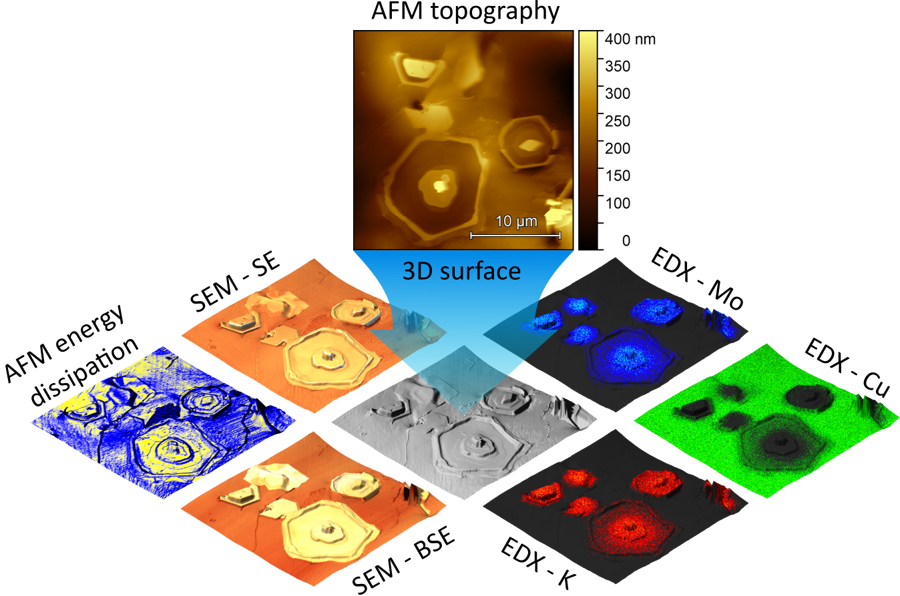 The complex sample analysis at nanoscale is the crucial point in the research process. However, the need for multiple analytical instruments to undertake the correlative analyses was complicating the overall measurement feasibility.
The introduction of the AFM-in-SEM technology via LiteScope changed this situation. Its unique method of multidimensional correlative imaging (CPEM) enables simultaneous acquisition of the data from SEM and AFM, and their seamless correlation into 3D images. Thanks to LiteScope, you can correlate sample topography, mechanical, electrical, chemical and magentic properties.
On the image on the left you can see an example of the broad spectre of channels acquired during LiteScope measurement. All of these AFM and SEM channels were acquired in in-situ conditions and their immediate correlation in our NenoView software offers a unique complex information about different properties of the sample.
In-situ sample characterization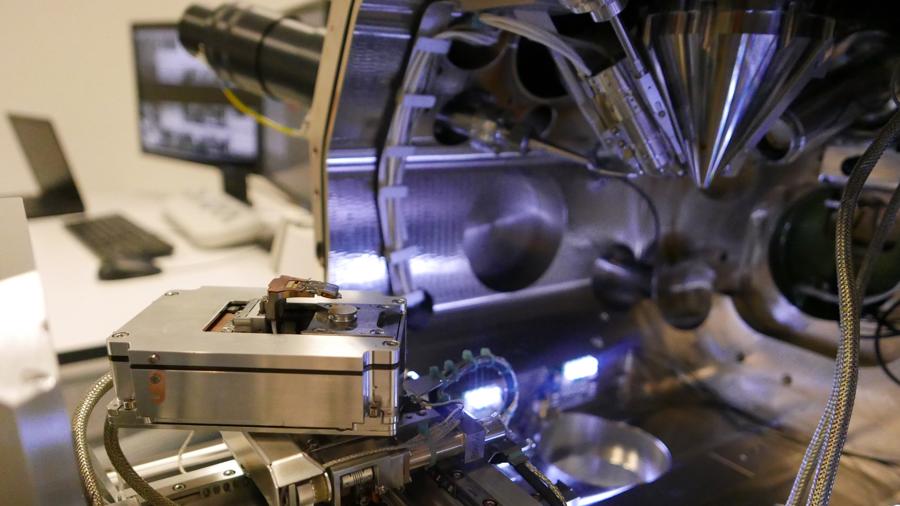 The need of in-situ analysis of sensitive samples was one of the principal impulses for designing the AFM-in-SEM LiteScope. Thanks to our innovative setup, it's finally possible to perform both AFM and SEM analysis directly in the SEM chamber without exposure to ambient conditions. That means no risk of sample contamination.

As you can see on the picture on the left, LiteScope installed in the SEM chamber makes possible to measure in-situ induced sample modification and analysis of changes, be it mechanical, electrical, chemical or any other. All the measurements can be done at the same time, in the same place and under the same conditions.
Precise localization of the region of interest
Extremely precise and time-saving approach uses SEM to navigate the AFM tip to the region of interest, enabling its fast & easy localization.
A nice example can be seen on the video on the left, showing that we were able to guide the AFM tip precisely to such a tiny nanostructure as spider silk wires.
In general, the principal problem while using separate AFM and SEM instrumentation occurs during the sample transfer between both instruments. In this case, it's nearly impossible to navigate the AFM tip to the sample spot previously measured in the SEM.
With LiteScope, you don't have to waste your precious time while trying to find that spot with your AFM tip. You'll leverage our quick & straightforward solution!